Stack Adapters for use with SR products
These adapters make it easy to use our systems with embedded computers

Click on GPS, Terminal Boards, or Cables & Etc for other accessories
Example PAR4CH/PC104 Stack
click for tour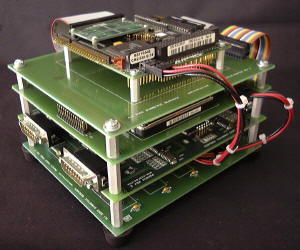 Symmetric Research offers offers a line of stack accessories to assist in using our USB4CH and PAR4CH A/D products with PC104 form factor motherboards whose small size makes them a good match for many field boxes and portable applications.

The example stack in the photo starts with a PC104 CPU card mounted on a PAR4CH-PC104-ADAPTER. Below that is a PAR4CH-PC104-DISK board with a 2.5" hard disk. It's followed by a PAR4CH A/D board and has a PAR4CH-PC104-POWER power distribution panel on the bottom.

Click on the product name in the table above to find out more about our 4CH/PC104 stack accessories. To find out more about standard PC104 products, check our list of Third Party Hardware PC104 vendors or search the web. More information is also available on our Field Box and Mini ITX & PC104 FAQ pages.