SER1CH-UA-DSUB -- click for tour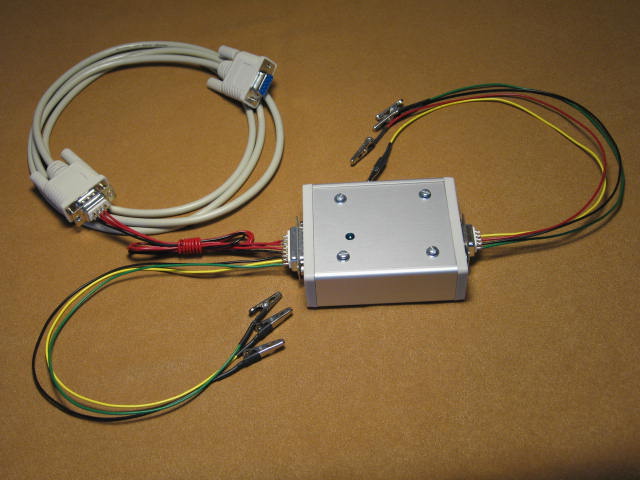 SER1CH-UA-DSUB A/D Features

• SER1CH-UA D-shell model for industrial apps
• Also available in BANA and 1 inch models
• 24 bit resolution
• Samples at 1 Hz
• One single ended analog channel, 0 to 5v input
• 10 Mohm input impedance
• 600 microamp current consumption
• Buffered A/D reference for ratiometric apps
• Ideal for potentiometer measurements
• Application software with source
• Connects to RS232 serial port on PC
• All cables included
• Price $180 for bundled "in the box" system
• Spec Table
• PDF Documents & Software
• Options

Download PDF Product Flyer

, User Manual

Product Description

The SER1CH-UA-DSUB is a 1 channel, 24 bit realtime continuous data acquisition system with a very low power consumption of 600 microamps. With D-shell connectors, it is well suited to industrial applications. Other models differing only in their connectors include the SER1CH-UA-BANA with banana jacks for quick connections and the narrow SER1CH-UA-1in with right angle headers.
Suitable for use with potentiometers and other ratiometric applications, a buffered copy of the A/D reference is provided for sensor excitation. The systems samples at 1Hz with a full scale input voltage range of 0 to 5 volts. Sitting outside of the PC for improved noise performance, it comes in a sturdy anodized aluminum case, communicating acquired data to the PC using a standard RS232 serial port.
A full featured DVM acquisition and display program is included with the system software, so you can be up and running immediately and continuously saving acquired data to disk. For developing custom applications, low level functions for controlling the system are supplied as static and DLL libraries. Windows and Linux software is provided with source code included.
The bundled "in the box" system comes with all the accessories you need to start acquiring data immediately. These include software, PDF User Manual, 9 VDC power supply, 6' RS232 serial cable, D-shell cables for analog input (male DB09 to alligator clips) and power/RS232 (female DB15 to 2.1mm power jack and female DB09 RS232), and desktop enclosure.
Specifications Table

For more detailed specifications, please see the User Manual.
SER1CH-UA-DSUB Specs
Channels:
1
Resolution:
10 microvolts (19 bits) at 1 Hz
Sample Rate:
1 Hz
Gain:
1
Analog Input Type:
Single Ended
Analog Input Voltage:
0 to 5v, other ranges possible with additional circuitry
FAQ note
Analog Input Impedance:
10M ohms
FAQ note
Analog Reference Output:
4.96v, sourcing up to 10ma
Digital I/O:
None
Analog Connectors:
9-pin male D-shell
FAQ note
Ratiometric Connection:
VGND = ground, VIN = wiper, VREF = excitation
FAQ note
PC Connection:
15-pin female D-shell to DB9 RS232 (RTS,DTR,CTS)
FAQ note
Power Connector:
15-pin female D-shell
Power Requirements (Active):
600ua @ 9 vdc (10ma with power on LED enabled)
FAQ note
A/D Converter:
Linear Tech LTC2400
A/D Type:
Sigma Delta
Data Buffer:
None
FAQ note
Board Dimension:
2.19" W x 3.00" D
Enclosure Dimension:
2.75" W x 3.50" D x 1.25" H
Supported OS:
Win2K/XP, Linux
ROHS Compliance:
Compilant by exemption
FAQ note
Price:
See "in the box" table below
Documents

and Software

These documents represent the complete specs for this product. They can also be found on our Downloads page.
SER1CH-UA-DSUB Documents & Software
Category
Description
Rev
File
# bytes
HTML
SER1CH-UA software summary
Product Flyer
SER1CH-UA specs
2012/01/01
flyser1chua.pdf
151,643
User Manual
SER1CH-UA user manual
2007/11/24
manser1chua.pdf
1,064,233
App Note
Scaling and Biasing Analog Signals
2007/11/24
scalebias.pdf
361,490
System Software
Windows XP/7
2008/12/10
serwin.zip
2,542,266
System Software
Linux 2.6.21-1.3194.fc7 (Fedora 7)
2008/12/10
serlnx.tar
1,454,080
Price Table

The following items may be purchased individually or at a discount as a bundled "in the box" system. When purchasing a SER1CH-UA-DSUB "in the box" system, the following are included:
SER1CH-UA-DSUB In The Box
Item
Description
Price
WITHCASE-SER1CH-UA-DSUB
One channel, 24 bit data acquisition board for PC RS232 serial port with case
$135
CABLE-S1UADB-ANALOGIN
Analog input DB9 to alligator cables (24 gauge wire)
$20
CABLE-S1UADB-PWRS232
DB15 to 2.1mm power and DB9 RS232 serial cables (24 gauge wire)
$20
CABLE-DB09-MF-6
Six foot DB09 male to female molded RS232 serial cable
$8
TRANS-WALL-09V-DC-30
TRANS-EURO-09V-DC-30
9 vdc, 30 ma wall transformer, 110 vac input
(or substitute a 220 vac euro transformer on request)
$15
CD-SER1CH-UA
CD with software and PDF user manual
$1
Individual item subtotal =
$199
"In the box" discount ( box contents photo )
- $19
SER1CH-UA-DSUB
Final cash price =
$180
Options

Some users may want to consider these additional options: