SR data acquisition systems can be used with small form factor PC motherboards in addition to the standard desktop and laptop size computers. Two popular small motherboard standards are the Mini ITX and PC104. Because of their small size, these boards are often used for portable applications and in ruggedized field boxes that can withstand harsh environments.

Symmetric Research does not directly sell Mini ITX or PC104 motherboards or finished field box systems and offers this information as an example of what can be achieved with these systems. We do provide links to Mini ITX and PC104 vendors, and for PC104 customers we offer a line of stacking adapters to make integrating our products with your system easy.
Mini ITX Features
•

Standard Connectors, Easy to Use, Low Price, Low Power

PC104 Features
•

Established Standard, Small Size
Mini ITX systems and PAR4CH/PC104 stacks are discussed in more detail below. Check our Stack Adapters product selector page for a list of accessories to assist in building custom PAR4CH/PC104 stacks. To find out more about standard Mini ITX and PC104 products such as motherboards, cases, and peripherals, check our list of Third Party Hardware vendors or search the web.
Mini ITX Systems
Example Mini ITX System with PAR8CH
click for tour
Mini ITX systems are new and becoming increasingly popular because of their small size, low price and standard PC connectors. Their best features are

Easy to use: Mini ITX motherboards come with all the accessories on a single board. These typically include disk controllers, video, ethernet, all standard RS232 serial, parallel, USB and etc. Furthermore, all of the features are on standard connectors so you can use desktop PC peripherals such as monitors and keyboards directly.

In contrast, even though they are smaller, PC104 motherboards often use non-standard connectors making them difficult to use during development and in the field. PC104 cannot match Mini ITX for ease of use and low power. If you are comfortable using desktop machines and operating systems, you will immediately feel at home with Mini ITX.

Low Price: The Mini ITX system shown here in the photo was purchased for approximately $400. That includes the motherboard, a fanless Via 533 MHz Eden CPU, 256 MB of memory, a 30 GB 2.5" hard disk, and a Travela C136 or C138 case with wall transformer (operating system software not included). In other words, one can purchase a complete system for about the same price as a typical PC104 motherboard alone.

Low Power:The Mini ITX shown here, including a 30G hard disk, ethernet, and one of our PAR8CH data acquisition systems consumes 800 milliamps at 12 volts. And, that includes running standard desktop Win2K/XP or Linux and one of our data acquisition programs, scope or simp.
PAR4CH/PC104 Stack
Example PAR4CH/PC104 Stack
click for tour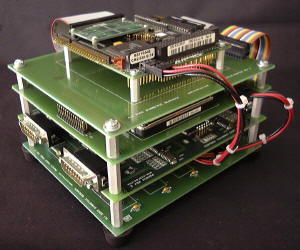 PC104 form factor motherboards are well established and popular because their small size makes them a good match for many field boxes and portable applications. Their best features are

Small Size: At 3.5" by 3.75", the PC104 standard is one of the smallest PC motherboard form factors to enjoy wide popularity. Most PC104 CPU cards include connectors for PC peripherals like disk controllers, serial and parallel ports, and etc. The features available across PC104 motherboard manufacturers varies widely.

Expansion: The PC104 expansion bus uses the same signals as the 8 and 16 bit ISA bus formerly used on desktop PCs. Many equipment manufactures have moved their ISA designs to the PC104 standard, offering all sort of add-ons such as video, ethernet, modem, audio, digital IO, and etc.