A complete software package comes with each PARGPS. Finished applications, function libraries, and source code are included. You can start timestamping data right away and have the tools for writing custom applications.
Summaries of the finished applications are shown below. Complete descriptions are given in the User Manual. The most recent User Manuals and software releases are always available for free from our Downloads page.
GpsTime (VB)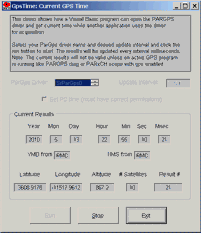 DIAG,DIAGSER
These are text only diagnostic utilities for examining NMEA strings and verifying the PARGPS and its connections to the PC and PARxCH. Use at installation time or after unexpected behavior is observed.
CURRTIME
This text only program displays the current GPS time and number of satellites stored in the PARGPS device driver when a GPS program like PARGPS diag or a PARxCH acquisition program is running.
SETHDRTM
This text only utility updates the DAT header start time with an accurate value using GPS records in the body of the DAT file generated by the PARxCH scope and simp acquisition programs.
GPSTIME,DIAGNMEA
These are GUI versions of CURRTIME and DIAGSER written in Visual Basic.
Function Libraries:

Functions like Open, Close, ReadData, and GetCurrentTime are included for basic system control. The functions are written in C and provide all the tools needed for writing custom applications. Refer to finished applications like CURRTIME, GPSTIME, and PARxCH SIMP as examples. The libraries are available in static or DLL format. See the PDF User Manual for detailed function descriptions.
Using with Other Programs:

The PARGPS is compatible with many general purpose software packages. Some examples include:
VISUAL BASIC, FORTRAN
The PARGPS function library can be called from a wide range of programming languages like Visual Basic. See the GpsTime and DiagNmea programs for examples.
LABVIEW, TESTPOINT
The function libraries can also be called from programs like LabView and TestPoint. Users must provide an interface specifying the arguments for each DLL function in the format required by their program. Several LabVIEW demo VI's and applications are provided.