A complete software package comes with each SER1CH-UA (-BANA, -DSUB, or -1in). Finished applications, function libraries, and source code are included. With these tools you can start acquiring data right away and also write custom applications. Acquired data is easy to use with other popular programs.
Summaries of the finished applications are shown below. Complete descriptions are given in the PDF User Manual. A complete software package with source code and executables is available for Windows (serwin.zip) and Linux (serlnx.tar). The most recent software and manual are always available for free from our Downloads page.
Finished Applications:

DVM
This is a digital volt meter program in two versions. DvmGui provides a Windows GUI interface while DvmCmd is text only. Both display acquired values as voltages or other scaled user units like inches. Data is displayed as it becomes available, and is also written to an output file. An initialization file is used to specify calibration and display units. For convenience, two different unit scalings are displayed on the screen for the single SER1CH-UA channel.
CAL
This calibration program is a companion for DVM. CalGui is the Windows GUI version and CalCmd is text only. Both compute the calibration values needed to convert A/D counts into scaled user units. The calibration information is saved in a DVM initialization file.
| | | | |
| --- | --- | --- | --- |
| | DvmGui | CalGui | |
Function Libraries:

Functions like Open, Close, and GetData are included for basic system control. The functions are written in C and provide all the tools needed for writing custom applications. Refer to finished applications like DVM and CAL as examples. The libraries are available in static or DLL format. See the PDF User Manual for detailed function descriptions.
Using with Other Programs:

SER1CH-UA data is compatible with many general purpose software packages. Some examples include:
GnuPlot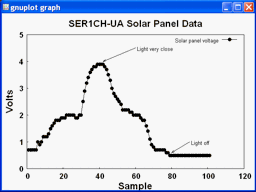 EXCEL, MATLAB, GNUPLOT
Data acquired with DVM is saved as simple ASCII text files. It can be read or imported by popular analysis and plotting programs like Excel, MatLab, and GnuPlot. See the User Manual and software Examples directory for a tutorial with GnuPlot.
VISUAL BASIC, LABVIEW, TESTPOINT
The SER1CH-UA function libraries can be called from a wide range of programming languages like Visual Basic as well as programs like LabView and TestPoint. LV and TP users should write their own virtual instrument interfaces.