PAR8CH -- click for tour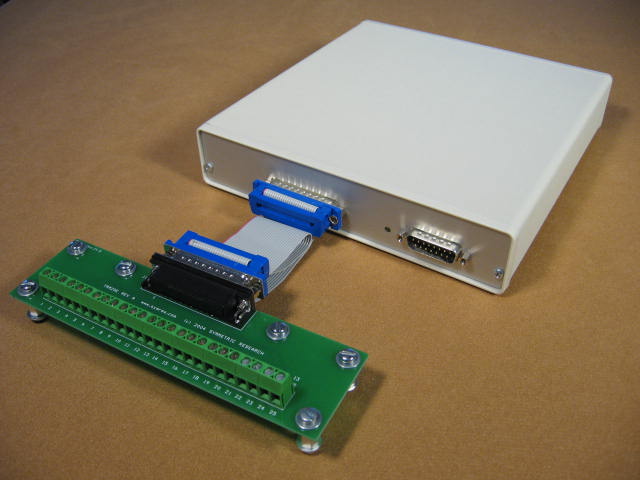 PAR8CH A/D Features

• 24 bit resolution
• Eight individual analog channels
• Also available in 1CH and 4CH models
• An A/D converter per channel
• Sampling rates from DC to 5 kHz
• 4 digital inputs, 4 digital outputs
• Connects to parallel port on PC
• Application software with source
• Simultaneous digital recording **
• 800 ns GPS time stamping **
• Low 180 milliamp current draw
• Price $980 for bundled "in the box" system
• Spec Table
• PDF Documents & Software
• Options

** Improved feature available on PAR8CH only.

Download PDF Product Flyer

, User Manual

Product Description


The PAR8CH is the 8 channel member of a family of 24 bit realtime continuous data acquisition systems with an individual A/D per channel architecture. 1 and 4 channel units are also available.
For the PAR8CH 24 bit A/D, highest resolution occurs at 10-1000 Hz, with maximum sampling rates of 5 kHz sustained. All PAR8CH inputs are differential with amplitude ranges of +/- 10 volts. The on board 2 MB DRAMs allow continuous no loss data acquisition even on heavily interrupted and multitasking PCs. The PAR8CH sits outside the PC for improved noise performance and communicates its acquired data using the standard PC parallel port.
Several features beyond those shared with the 1 and 4 channel PARxCH products are standard on the PAR8CH including improved digital I/O and GPS time stamping. While all three PARxCH can poll the digital inputs, the PAR8CH automatically samples the digital inputs each time a new analog data point is ready and includes the digital data in the regular data stream. The PAR8CH also has an 800 ns onboard counter that can be used in place of the PC's high speed counter when time stamping data with the PARGPS. This enhances accuracy since variation in PC interrupt latencies no longer influences the timing calculation.
For all the PARxCH products, a full-featured acquisition and display program is included with the system software, so you can be up and running immediately; controlling acquisition rates and continuously saving acquired data to disk. For developing custom applications, low level functions that control the PAR8CH are supplied as static, DLL or shared libraries. Full source code is included and the PDF user manual contains circuit diagrams.
The pair of 2 MB DRAM data buffers act as a back up to make sure data is not lost even if the PC is interrupted for long periods on other tasks. There are no "fall through" times or buffer latencies. As soon as any data is ready from the PAR8CH, the PC is notified so it can get the data. Any additional data that comes in while the PC is getting around to servicing the PAR8CH is simply stored up. With 4 MB of buffering at 10 Hz sampling, you have more than 4 hours of back up, with proportionally shorter times at higher frequencies. These times are more than enough to satisfy typical PC latencies.
The PAR8CH comes with all the accessories you need to start acquiring data. These include software, manual (PDF), 9 VDC power supply, 6' parallel port cable, TRM25E 8 channel terminal board, and desktop enclosure.
Specifications Table

For more detailed specifications, please see the User Manual.
PAR8CH Specs
Channels:
8
Resolution:
Max: 24 bits, Typical: 23 bits at 10 Hz, 21 at 100 Hz, 19 at 1 kHz
FAQ note
Sample Rate:
Min: 0.00001 Hz, Max: 5 kHz sustained, Recommended: 10-3000 Hz
FAQ note
Gain:
1 to 16, program selectable
Crosstalk:
Down more than 140 dB (24 bits) at 100 Hz
FAQ note
Analog Input Type:
Differential
FAQ note
Common Mode Rejection:
102 dB
Analog Input Voltage:
+/-10v
FAQ note
Analog Input Impedance:
Approximately 16k ohms
FAQ note
Analog Input Header:
25 pin D-Shell or plain wire with TRM25V
Digital Recording:
Digital inputs sampled and recorded with analog or polled
FAQ note
Digital I/O:
4 input and 4 output bits on 15 pin D-Shell
Digital I/O Levels:
TTL/CMOS 5 volt
PC Connection:
EPP/BPP/ECP PC parallel port
FAQ note
Power Requirements:
9 to 24 vdc or vac, 9 volts DC preferred, 170ma @+9v
A/D Converter:
TI ADS1210, 1 per channel
A/D Type:
Sigma Delta
Data Buffer:
4 MB DRAM
Board Dimension:
7.00" W x 7.00" D
Enclosure Dimension:
7.25" W x 7.50" D x 1.63" H
Supported OS:
Win2K/XP, Win95/98/ME, DOS, Linux
ROHS Compliance:
Compilant by exemption
FAQ note
Price:
See "in the box" table below
Documents

and Software

These documents represent the complete specs for this product. They can also be found on our Downloads page.
PAR8CH Documents & Software
Category
Description
Rev
File
# bytes
HTML
PARxCH software summary
Product Flyer
PARxCH specs
2012/01/06
flyparxch.pdf
48,672
User Manual
PARxCH user manual
2007/02/01
manparxch.pdf
83,874
User Manual
PARGPS user manual
2007/12/09
manpargps.pdf
38,891
System Software
Windows 2K/XP
2010/10/05
parwin.zip
8,620,816
System Software
Linux 2.6.33.3-85.fc13.i686.PAE (Fedora 13)
2010/10/05
parlnx.tar
6,164,480
System Software
DOS (no GPS support)
2010/10/05
pardos.zip
1,493,256
Price Table

The following items may be purchased individually or at a discount as a bundled "in the box" system. When purchasing a PAR8CH "in the box" system, the following are included:
PAR8CH In The Box
Item
Description
Price
BOARD-PAR8CH
8 channel, 24 bit data acquisition board connects to PC parallel port
$880
CASE-PAR8CH
Vinyl coated steel enclosure with rubber feet
$58
TRM25E
25 position terminal board and cable for connecting analog input
$45
CABLE-DB25-MF-6
Six foot molded DB25 male to female PC parallel port cable
$8
TRANS-WALL-09V-DC
TRANS-EURO-09V-DC
9 vdc, 500 ma wall transformer, 110 vac input
(or substitute a 220 vac euro transformer on request)
$15
ACC-SOLDERCUP-15-25
D-shell solder cups for custom connection to digital and analog inputs
$2
CD-PARXCH
CD with software and PDF user manual
$1
Individual item subtotal =
$1009
"In the box" discount ( box contents photo )
- $29
PAR8CH
Final cash price =
$980
Options

Some users may want to consider these additional options:
PAR8CH Options
Item
Description
Price
PARGPS
For time stamping data acquired with the PAR8CH
$285
TRM15E
15 position terminal board for the digital I/O
$35
TRM25E
An additional 25 position terminal board for alternate wiring setups
$45
SUB-TRANS-EURO-09V-DC
Substitute a 220 vac Euro style wall transformer
$0
Third Party Products
Links to Third-Party products that enhance the PAR8CH